Back To Our Services
Our garage door service in Cameron Park is dedicated to our customers. We provide great service and use quality products. Our goal is to make our customers happy with the service they get from us. We have been in the area for many years and have built a reputation of providing the best garage door service in Cameron Park. Our service starts at the warehouse, where we make sure every product we receive is the best before passing it on to our customers.
Cameron Park, CA, is in the northern part of the state.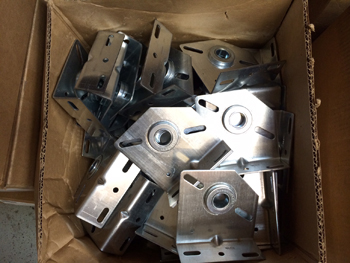 Our community is located about 30 miles from Sacramento and 70 miles from Lake Tahoe with other towns within a few miles from us. We have a lake that sits on the boarder of Cameron Park that is a beautiful place to spend the day. You can hike, fish and have a picnic with your family. We also have dining, and lots of shopping. In one area of Cameron Park there is a community known as Airpark Estates where the roads are very wide, so that the pilots who fly commuter planes can take their plane right to their residence. How cool is to be able to come out your front door get in your plane and go to work. Our company is glad to be a part of such a beautiful town.
At our garage door company in Cameron Park, our service starts at the shop. Our staff provides courteous service, when you come or call the company. Then when our skilled technicians come to your house you receive even more friendly service. Our contractors do installations, replacements, repairs and maintenance and adjustments. Our company has technicians that specialize in certain areas of service. We have technicians that specialize strictly in installing or replacing your garage door. There are other technicians that specialize in repairs.
We have a little competition in Cameron Park, but we are not worried because we have the reputation of being the best garage door company. Our technicians here in Cameron Park are trained to give the best service possible. We can repair all parts, such as a door opener, the tracks, and the remote or make the necessary adjustments and the required installations. We want to save our customers money and replacing a part when it can be repaired is a waste of money.
Garage door panel repair
Our technicians or a staff member can advise you on how to do maintenance on a regular basis. One of our dedicated technicians can do the maintenance once a year to ensure that your door system is running smoothly. Our garage door panel repair has the lowest price in the area. If you just need a part that you can replace yourself, come by our place and get the quality product you need. If you do not have the time, you can contact us and we will send someone to see you at your convenience.
Pleasing our customers with great service and low prices is what we do every day. We are available when you need us, so you can call us anytime for all of your garage door repair, replacements and installations.
Our garage door company is the best garage door service in and around Cameron Park, CA.
Back To Our Services